This stunning Mercedes based E Class hearse left Fearghas Quinn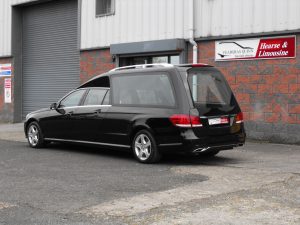 Northern Ireland for Manchester on Thursday. It is adding to the
fleet of Pepperdine Barrett, long established funeral directors with a stellar reputation in the North West of England.
The vehicle featuring strobe lights, LED interior lighting, our slim-line Classic Deck, alloy wheels and a state of the art reversing camera was built at our base in County Antrim.
"This is the fifth vehicle of our fleet we have had built by Fearghas, and they keep getting better. We've always been impressed by the build quality and we feel they stand out from the crowd as very stylish vehicles" Frank said
"We will do a lot of business with Fearghas in the future."
"I'm delighted to supply Frank with his latest hearse built in County Antrim. It's a huge compliment to us and our staff that he thinks so highly of our vehicles and we wish him every success with his new E-Class"
Fearghas Quinn Hearse and Limousines Northern Ireland pride themselves on their many repeat customers and always endeavour to provide the best of after-sales care.