The First Hearse
This is a really interesting question. Nowadays, most people are aware of the existence of hearses and funeral vehicles. They even know where to find a hearse for sale.
However
Where do they actually come from?
How are hearses manufactured?
Who builds hearses?
How was the first hearse made?
Like many great inventions, it's difficult to pinpoint exactly who number one is. In the early 20th century there certainly seemed to be a need for a motorised hearse and many were attempting to find a solution.
---
USA
Harry Durward Ludlow
In America, the first motorised hearse is generally attributed to Harry Durward Ludlow of Chicago. Ludlow was an undertaker in the area and saw the potential of the automobile in his industry. He had built his business to become one of the largest undertaking establishments in Chicago, and through an established relationship with Coey's Livery Company he began a project to mount a Cunningham horse-drawn hearse body onto a Thomas bus chassis.
It was first used on 15th January 1909 on a funeral. It immediately became apparent how good this idea was and just a couple of months later the company release a second vehicle, this time an ornate hearse body mounted on an automobile chassis.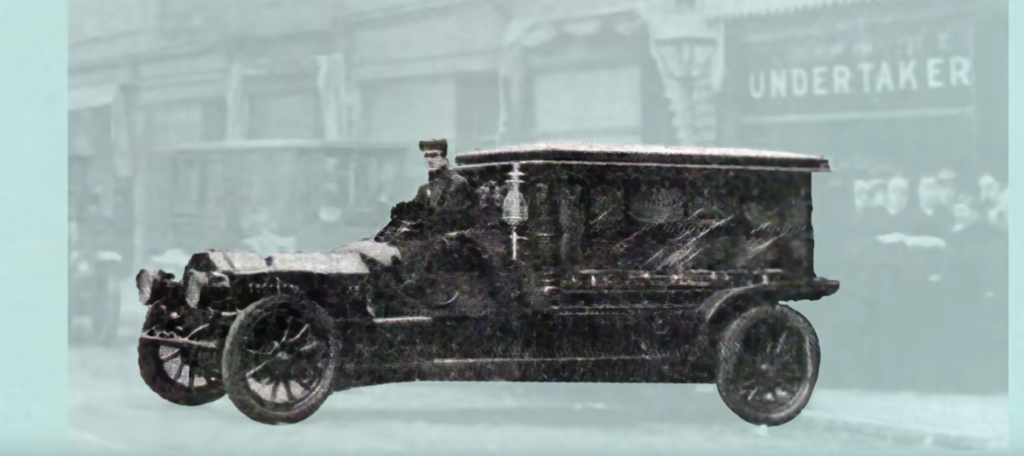 Ludlow reported the motor hearse as being "the most dignified method for conveying funerals in large cities, where distances are so great, that has been introduced."
Ludlow passed away himself in 1960.
UK
Mr. Pargetter
Around the same time in the UK, Mr. Pargetter of Coventry designed and built a hearse for their own use in 1909. Much like his contemporary in Chicago, Mr. Pargetter built a hearse body reminiscent of a horse drawn carriage, and had it fitted to an automobile chassis.
Sturmey Motors Ltd had built a specially constructed Lotis chassis which could be driven at the slow speeds necessary to run a dignified funeral with a walking cortege. The hearse had epicycle gears enabling quiet gear changes, and on level roads this hearse was able to maintain funeral pace without any gear changes. This proved to be a great success and they continued to have a name as trendsetters into the 1920s with their engine driven hearses.
---
2 full years before
Mr Reuben Thompson
However both those vehicles appear to have come after the hearse used in Sheffield by Mr Reuben Thompson in 1900. His 12hp Wolseley chassis had a hearse body fitted, which was built by Mr. Thompson himself, and was designed to take a coffin, 7' x 2'6" x 2'6".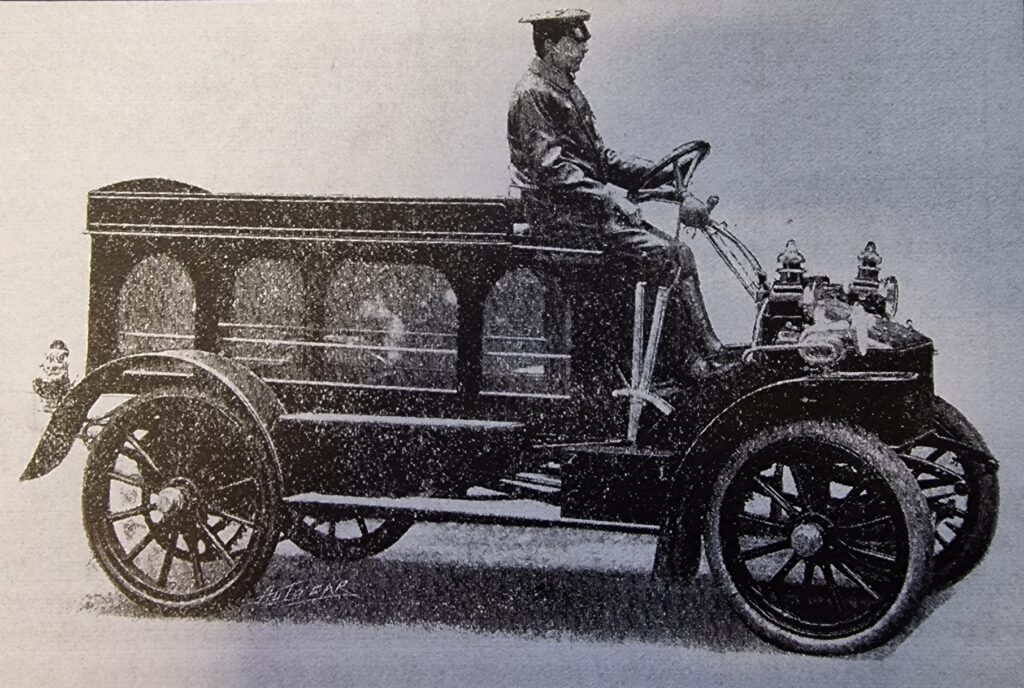 He had this vehicle advertised for use as late as 1907, but still 2 full years before Messrs Ludlow and Pargetter showcased their versions each side of the Atlantic.
Interestingly, the innovation shown over 100 years ago remains the basis for modern day coachbuilding, with each hearse manufacturer applying similar principles to their own vehicles today.