Quinn Hearse and Limousine is an established family business, which has been designing and manufacturing funeral vehicles since 1995. We've always been driven by the core belief that everyone deserves to have a dignified funeral, no matter their background or financial status. We aim to develop a range of vehicles to enable every funeral director, from the large company to the rural undertaker, to have a hearse to be proud of. And in turn, that families trust will give their loved ones a dignified final journey.
We're passionate about what we do, and each vehicle build at our factory in Co. Antrim has been manufactured with the same care and attention we trust our customers give to their sensitive work.
Our team is made up of enthusiastic people who take pride in their work, and all buy into the same core values. We have a mix of people who have been with us since they left school, people who have brought their skills from somewhere in a similar sector, and those who have changed careers to join. We always seek to maximise everyone's potential by providing training and development, both in-house and using external training providers to help ensure that everyone develops their skills to build the very best hearses and limousines we can. Members of our team value the long-term, stable career with a focus on continuous improvement of the individual, the vehicles and the business overall. It's through this forward-thinking approach that we have been recognised with "Gold Level Innovator" status.
If you think that you'd like to be a part of our growing team, we'd like to hear from you. You can contact us using the details at the bottom.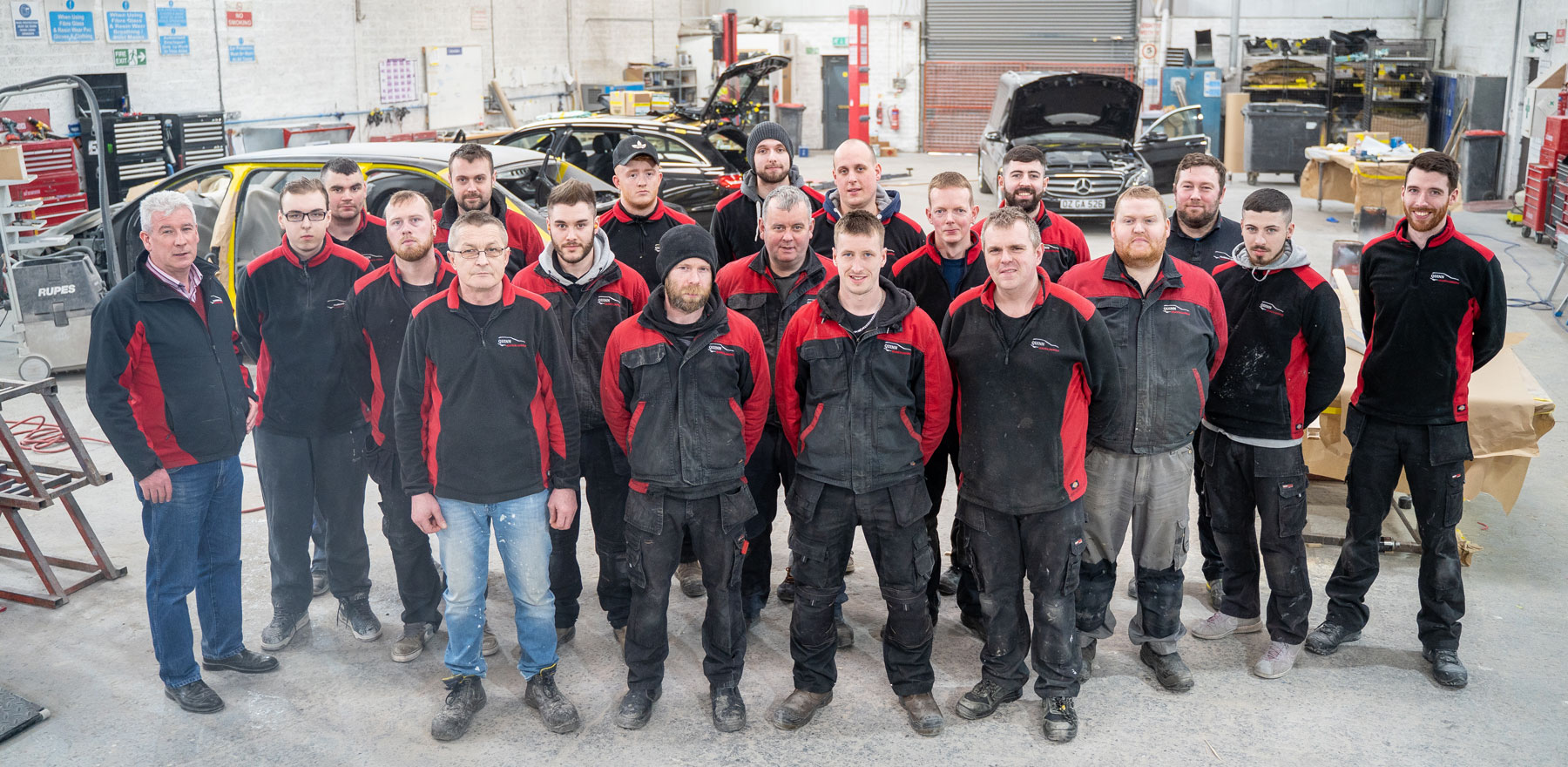 Part of our culture is our support for non-profits who work tirelessly in our local community.
Cash for Kids is a grant-giving charity helping the children that need it most across the UK.
Their mission is to improve the lives of disadvantaged children and young people in our communities who are affected by poverty, illness, neglect or have additional needs. We believe that all children should be able to express their individuality, achieve their potential and live life to the full.
They work with grass-roots organisations that aim to make a difference to young lives, directly supporting families who often have nowhere else to go.
Collectively Cash for Kids raised £21.4 million across the UK in 2021, supporting 548,102 children.
In 2019 Cancer Focus Northern Ireland celebrated 50 years working to reduce the impact of cancer on local people's lives.
They provide care and support services for cancer patients and their families; offer a range of cancer prevention programmes to help people lessen their risk of getting cancer; fund scientific research into the causes and treatment of the disease and campaign for better health policy to protect our community and its future.
Alzheimer's Society is the leading support and research charity for people with dementia, their families and carers. They provide information and support, fund research and create lasting change for people affected by dementia.
We are Fearghas, Paddy and Deborah Quinn. A father, son and daughter who aim to provide the best hearses and limousines for funeral directors throughout the UK and Ireland. It started as an idea from Fearghas in the mid 1990s, and today, where we build a range of funeral vehicles that have been sold across 4 continents.
All our vehicles are hand built, using local suppliers, with each of us taking a personal interest in the quality of every single one. From the moment an order is placed, until long after you have your keys, you can be assured that your vehicle has the absolute best of care and attention.